Conferences
Inspiring Domestic Violence Policies and Practices
Date: June 2nd and 3rd 2021
Location: video conference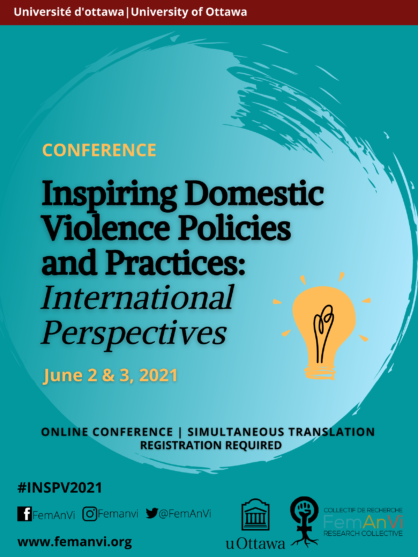 DESCRIPTION
The Feminist Anti-Violence Research Collective invites you to their 4th international conference titled "Inspiring Policies and Practices in domestic violence: International Perspectives"!
In recent years, the problem of domestic violence has occupied an important space in the public sphere, increasing in visibility over the past few months due to the COVID-19 pandemic and the recent wave of femicides in Quebec. Faced with this phenomenon, policy makers and stakeholders are tasked with determining the best strategies to put in place, in order to ensure the security of victims, to hold violent partners accountable and more generally, to prevent domestic violence.
In this context, the conferences organising committee hoped to shine a light on inspiring policies and practices occurring both within Canada and across the world, in order to fuel the further development of new policies and practices in this area.
PRELIMINARY PROGRAM
Day 1 – June 2nd, 2021 9:00am to 4:00pm
Opening remarks -Ingrid Falaise
EVOLUTION OF RESEARCH, POLICIES AND PRACTICES
Evolution of policies and practices – women's movement -Gill Hague
Evolution of research -John Devaney
-Lunch break-
SAFETY & ACCOUNTABILITY FOR PERPETRATORS
Evolution of research with perpetrators -Rebecca Dobash & Russell Dobash
Good practices with perpetrators -David Adams
Working with perpetrators in Ontario and Canada -Katreena Scott
Day 2 – June 3rd, 2021 8:30am to 4:00pm
GET INSPIRED
Istanbul Convention -Marcella Pirrone
Laws on Spain/Catalonia -Gloria Casas Vila & Encarna Bodelon
Policies and practices in Scotland -Marsha Scott & colleagues
Violence Against Women Act in the United States -Ruth Glenn
-Lunch break-
HOW COULD THINGS BE DONE DIFFERENTLY IN CANADA?
Expert report on sexual assaults and domestic violence -Elizabeth Corte & Julie Desrosiers
Divorce and Coercive Control Act -Pierre Dalphond
Panel discussion
Simon Lapierre, Isabelle Côté, Alexandra Vincent and representatives from organizations working with survivors of domestic violence
CONCLUSION
COST
Cost (once): $45 + tax
Registration required
Register now