Conferences
Coercive Control: Improving Responses to Domestic Violence
THE CONFERENCE IS OVER
Thank you to everyone who participated! 
—
Dates

: 

April 17-18, 2019
Location

: 

University of Ottawa, Tabaret Hall, Huguette Labelle Room (550 Cumberland, Ottawa, Ontario)
Description
The Feminist Anti-Violence Research Collective (FemAnVi) was delighted to organize our 3rd international bilingual* conference entitled "Coercive Control: Improving Responses to Domestic Violence", which was held at the University of Ottawa on April 17 and 18, 2019.
Coercive control is a concept that was first introduced by American Researcher Evan Stark, who proposes to move away from an understanding of domestic violence based primarily on acts of violence. Although in recent years, considerable efforts have been made to recognize other forms of domestic violence who are not limited to physical violence, including emotional abuse and harassment, domestic violence is still generally perceived as an act of physical violence committed by an individual. The concept of coercive control provides an in-depth understanding of the complex dynamics that allows perpetrators to establish and maintain control over their spouse or their ex-spouse. In turn, coercive control allows us to better assess situations of domestic violence and the immediate risks that are jeopardizing the safety of women and children. Let's highlight that in England and Scotland, coercive control has recently been introduced into the criminal code.
This conference brought together experts from Canada, the United States and the United Kingdom. In addition to introducing the audience to the concept of coercive control, we also examined how coercive control can be used in different contexts, including the benefits of integrating this concept in our understanding of domestic violence and in our legislation. Coercive control is certainly a promising solution to some of the gaps our criminal justice system, family law and youth protection services face when trying to asset domestic violence.
*Simultaneous interpretation was available in French and English.
Conference Program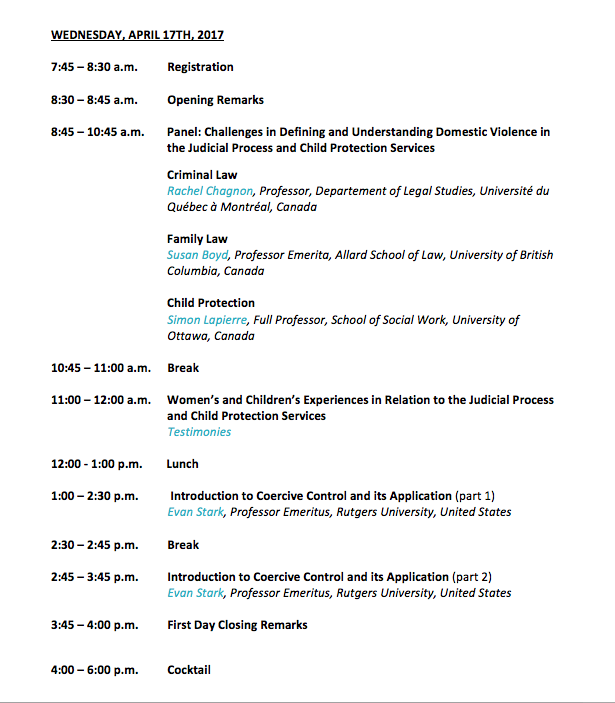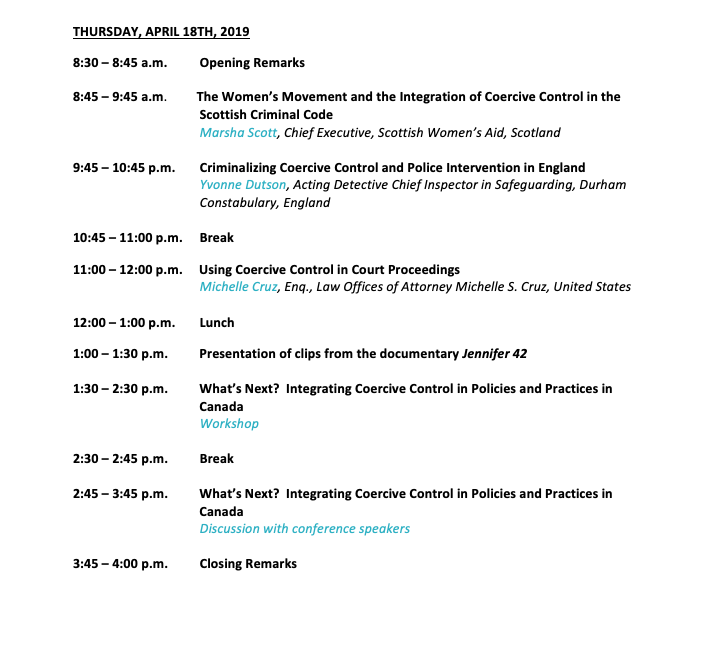 Includes lunches, coffee breaks and the cocktail reception
Institution & Individual: $375 + HST 
Community organization: $250 + HST
Student* : $100 + HST
* With proof of student status (proof of registration or your winter 2019 class schedule)
** Preferential rates for domestic violence survivors were available to facilitate access to the conference.
Please note that registration fees are non-refundable
Register now
Accommodation
Lord Elgin Hotel –  100 Elgin St,

A block of rooms at a special rate ($ 149 + taxes / night) was reserved at the Lord Elgin Hotel. The hotel is located within walking distance of the conference venue. Please note that this rate is available only on evenings of the 16th & 17th of April 2019.
Other options
Ottawa is a vibrant city with several hotel, hostel and short term rental options avaliable. If you could like more information about theses options please visite the Ottawa Tourism webpage (https://www.ottawatourism.ca/stay/).
Follow us social media
Facebook: FemAnVi, Instagram: @femanvi & Twitter: @FemAnVi
#CCV2019
See our Facebook event below :