2017 Conference
International Perspectives on Post-Separation Violence
The conference is over, thank you to everyone who participated! 
Dates

: 

April 11-12, 2017
Location

: 

University of Ottawa, Tabaret Hall, Huguette Labelle Hall (550 Cumberland, Ottawa, Ontario)
Description
FemAnVi organized the conference International Perspectives on Post-Separation Violence, which took place on April 11th and 12th, 2017 at the University of Ottawa.
It follows ExpViolence, a previous conference where post-separation violence has been identified as a priority issue. Speakers provide from research and practice arenas from Canada, United States and Europe.
This bilingual* conference addressed the issues and challenges as well as innovative practices in this field.
PowerPoint Presentation from the conference
—
Post-SeperationViolence Against Women and Children [In French Only]
Patrizia Romito, Università degli Studi di Trieste, Italie 
—
Panel: Can Violent Men Be Good Fathers [In French Only]
Patrick Ladouceur, Université d'Ottawa, Canada
—
Assessing Post-Seperation Risk and Safety For Women Victims of Conjugal Violence Using a Response-Based Practice [In French Only]
Cathy Richardson, Université de Montréal, Canada
—
« My mother is always scared because my father will never give up » : Children's Perspectives on Post-Seperation Violence [In French Only]
Simon Lapierre, University of 'Ottawa, Canada
(coming soon)
—
When Radicalization Interacts with Domestic Violence [In French Only]
Dominique Damant, Université de Montréal, Canada
—
The Prosecution of Teresa Craig: Expert Evidence on Coercive Control in Support of Self-Defence 
Elizabeth Sheehy, Université d'Ottawa, Canada
—
Safety for Women and Children? The Three Planet Problem  
Marianne Hester, University of Bristol, Angleterre
—
Panel: Is the System Protecting Women and Children? 
Mariachiara Feresin, Università degli Studi di Trieste, Italie 
—
Harnessing the Power of Community Based Participatory Research to Promote Survivor Safety: The Domestic Violence Program Evaluation Research Collaborative
Kirstie Thomas, Simmons College, États-Unis
—
Making Separation Safe for Survivors: What we Know, What We Can Do  
Sasha Drobnick, DV LEAP, États-Unis
(Coming soon)
—
Exploring the Implications of a Perpetrator Pattern-Based Approach for Post-Seperation Domestic Violence Cases  
Heidi Rankin, Safe and Together Institute, États-Unis 
Register now
Program
Click here for the PDF version of the program.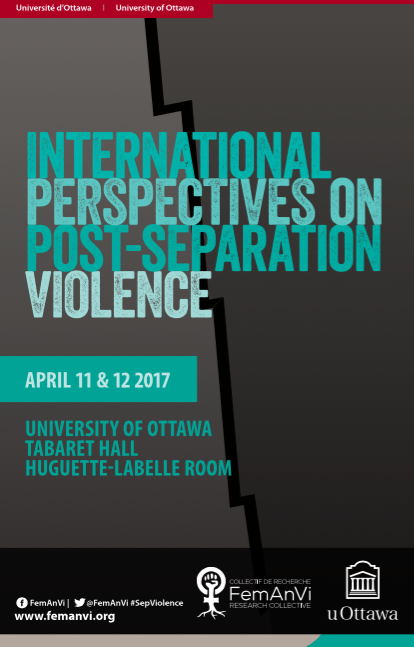 Follow us on Facebook and Twitter @FemAnVi #SepViolence